Talent Management, Succession Planning and Organizational Alignment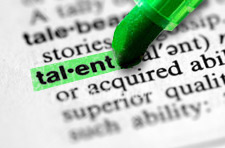 Talent Management matches your people strategy to your business strategy.
Talent management is a sustainable process that enables an organization to take an integrated approach to developing leaders as well as the talent in your organization. By implementing key tools and practices in your organization, I will help you to create a talent management culture that focuses on the continuous advancement of:
Organization and Leadership competencies that will serve as the foundation for succession planning.
Methodology to map key competencies to future business strategy.
Review of talent mapped to those needed future competencies.
Development planning that creates an environment supporting development.
Talent Development Process
The Talent Development process focuses on specific plans and tools to build core competencies and needed Leadership skills among selected individuals and job groups.
As a Talent Management consultant, my work with your organization is a five-step process.
Step 1: Identify Business Needs to determine what kind of Leadership will best achieve your organization's goals.
Step 2: Identify Developmental Opportunities to help future leaders acquire core competencies needed.
Step 3: Review High Potential Talent, & Prioritize Talent Pool to ensure secure succession plan for key roles.
Step 4: Match Individual Talents with the Achievement of Specific Business Needs.
Step 5: Create a Supportive Environment for Development by utilizing practices such as coaching, mentoring, career pathing, development planning and by implementing tracking and monitoring systems to create the appropriate expectations for follow-through.
Succession Planning
Talent Management takes a "big picture" perspective to ensure that all leadership development activities are coordinated, integrated and working toward enabling the organization to successfully execute its business strategies. It works from the premise that each organization has had successful practices and examples of what has worked in the past and can be integrated with new ideas and strategies. Succession Planning gives the organization a long-term competitive advantage; by ensuring that key Leadership and Expert positions are being filled, the organization's long-term growth, stability and success are guaranteed.
Organizational Alignment
Succession Planning depends on strategic organizational alignment. In order to develop the kinds of leaders needed for the company's future success, the organization's vision, culture, strategy, goals, leadership, teams, and individuals must be clearly aligned. Organizational alignment guarantees the achievement of the organization's goals.
Through a systems perspective, we will determine whether the current succession plan is aligned with the organization's vision and that the culture supports that vision. We will pay special attention to business practices used globally so that all future leaders are developing global competencies.
Main area of focus is: Somerset, Middlesex, Morris, Hunterdon, and Mercer County. And also: Somerville, Clinton, Whitehouse, Flemington, Bridgewater, Bernardsville,
Basking Ridge, Morristown, Parsippany, Florham Park, Morris Plains, Piscataway, Somerset, New Brunswick, Middlesex, Princeton, Montgomery, Skillman.