Women's Leadership Development
SECURING THE FUTURE:
The future is clear: Companies that successfully assess, develop and retain a diverse talent pool will have a competitive advantage over their competitors.
THE BUSINESS CASE: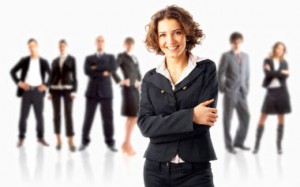 Women's presence in top managerial positions correlates to market success: A 2011 report stated there was a 26% difference in return on invested capital (ROIC) between the top-quartile companies (with 19-44% women board representation) and bottom quartile companies (with zero woman directors).1
Today, highly educated and talented women are entering the workforce in greater numbers. In 2011, women were earning
57% of college degrees.
60% of master's degrees.2
By tapping talented women with college and post-graduate degrees, companies will increase their profitability and ensure future stability.
CHALLENGES CONFRONTING FEMALE EMPLOYEES
Despite committed organizational efforts, companies are failing to develop, retain and promote high-performing female employees at the same rate as their male counterparts. Today women hold only:
37% of middle-management positions.
28% of vice-president and senior-managerial roles.
14% of seats on executive committees.3
Women employees face formidable obstacles that prevent them from both remaining and rising within workplace, including:
Need for greater work/life integration.
Failure to find mentors who will support and guide their development.
Being overlooked for leadership opportunities.
Negative perceptions of women's leadership styles.
Fear of personal and professional failure that causes women to hold themselves back from taking on leadership challenges.
---
---
At both the organizational and individual levels, there needs to be systemic changes to change those statistics.
Janet B. Matts, LLC has proven success creating and implementing sustainable organizational cultures that foster women's career development by:
Establishing development and succession plans for women leaders globally throughout their careers.
Creating initiatives that allow women to achieve work-life balance at various points in their career.
Assessing and developing high-potential women early in their careers for future leadership roles.
Implementing coaching and mentoring programs to assist and develop women.
Enabling women employees' acquisition of the right experiences that will give them the skills and knowledge necessary to successfully lead.
Transforming the organizational culture to allow for different leadership styles.
THE PROCESS
Performing a Needs Assessment to determine what has been successful for women in the organization, what does the company culture support, and what are the areas for development.
Leveraging successful programs and processes across the organization.
Identifying gaps to successful develop and retain talented women, and creating recommendations to fill those gaps, especially at key career transition points (e.g. starting a family or moving from an individual contributor to a leadership role).
Targeting aspects of the company culture to support sustainable changes, such as: implementing performance management metrics; promoting development success stories to create role models; and negotiating conflicting generational and cultural needs/ expectations.
Establish metrics to focus on targeted women leader development.
Target key goals for women in leadership positions.
Main area of focus is: Somerset, Middlesex, Morris, Hunterdon, and Mercer County. And also: Somerville, Clinton, Whitehouse, Flemington, Bridgewater, Bernardsville, Basking Ridge, Morristown, Parsippany, Florham Park, Morris Plains, Piscataway, Somerset, New Brunswick, Middlesex, Princeton, Montgomery, Skillman.