Building High Performance Teams
Creating optimal use of your teams' talent and potential…
"… adapting to the discussion flow and understanding and sharing ideas, made me increase the opportunities to come to a more positive output which counts with the buy-in of the group."
Senior Corporate Finance Executive, Bayer Pharmaceuticals
Today's complex matrixed structures demand that you understand how to influence superiors, peers and subordinates across the organization to achieve your team's goals.
Your leadership's success depends on your ability to:
Create team unity.
Align your team with company goals.
Maximize individual team members' potential.
Elicit your team members' strong commitment to achieving the team's shared goals in spite of competing demands.
Janet B. Matts, LLC can help you take your leadership to the next level by supporting your Team's Development by:
Assessing your team's development stages and determining what needs to happen at each stage to ensure optimal success.
Providing clarity about: understanding your role as Team Leader; identifying Team accountability; determining what constitutes success; and removing the barriers to achieving successful outcomes.
Developing influencing skills required to garner support for your team's initiatives throughout the organization.
Acquiring the tools needed to address and resolve conflict.
Improving decision-making skills.
Obtaining a systems perspective that will enable you to lead your team to success through an in-depth understanding of the complex interrelationship between organizational processes, corporate culture, and global market changes.
---
The Path to Greatest: Building a Self-Sustaining High-Performance Team Culture
A leader's success depends on the ability to create and guide well-integrated and high-performing teams. Janet B. Matts, LLC will help you create a self-sustaining culture that fosters the development of teams that create "wins" for your organization.
---
Creating a Coaching Culture
Sustainable behaviors that support ongoing development in your organization …
A sustainable coaching culture requires specific commitments and rewards. By creating a culture of empowerment in the organization, your teams will be able to reach higher levels of productivity.
Together, we will create and implement a three-pronged team development process that focuses on mentoring, networking and peer coaching. This process will create a transformative coaching culture by:
Valuing individual contributions as well as those that are team-based.
Making sponsorship and support available.
Developing accountability.
Delineating individual roles and responsibilities in relation to the team's goals.
Conducting the necessary conversations to align the team.
Fostering positive communication styles.
Integrating and influencing the company culture and gain greater business success.
Creating Leader Coaches who will serve as the pillars of your organization's coaching culture.
Developing Leader Coaches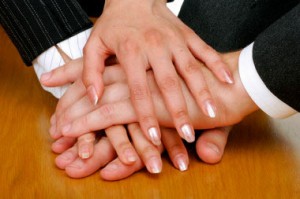 Leader Coaches are the key to developing a sustainable coaching culture within your organization.
A good leader by definition should be a good coach. Executive and transitions coaching with Janet B Matts LLC will assist leaders in developing the coaching skills necessary to successfully lead as they move across the organization.
Janet B Matts LLC will work with your organization to develop leader coaches by focusing on:
Assessing Leadership potential.
Improving leadership impact by: determining how individual leaders are perceived; identifying which perceptions need to be changed; and creating customized action plans to transform leadership performance.
Leadership pipeline planning.
Implementation of solution-based activities.
Creation of development networks for sustainable change.
Developing Human Resources as Internal Coaches
Developing your organization's Human Resources professionals as internal coaches is a cost-effective opportunity to build a sustainable coaching culture within your organization.
Janet B. Matts, LLC will:
Support the work of training internal and external coaches for your organization.
Provide coaching support for those pursuing coaching certifications.
What Are Your Individual or Organizational Coaching Needs?
Email or call Janet B. Matts, LLC to discuss the options that are best for your organization and your role as a Change Agent, HR Professional and Leader.
Main area of focus is: Somerset, Middlesex, Morris, Hunterdon, and Mercer County. And also: Somerville, Clinton, Whitehouse, Flemington, Bridgewater, Bernardsville, Basking Ridge, Morristown, Parsippany, Florham Park, Morris Plains, Piscataway, Somerset, New Brunswick, Middlesex, Princeton, Montgomery, Skillman.