Talent Management
Talent Managament and Organizational Alignment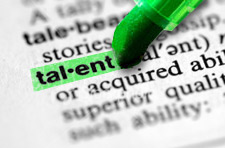 Talent Management matches your people strategy to your business strategy. From leadership competencies to succession planning; from development planning to creating an environment that supports leadership development; Talent Management is a sustainable process. It combines tools and practices that enable an organization to take an integrated approach to developing leaders.
Talent Development Process
The Talent Development process focuses on specific plans and tools for individuals as well as job groups to build competencies and needed Leadership skills. See the conceptual view of the Talent Development process. After exploring all the necessary information needed to make robust development suggestions, matching individual needs/aspirations takes place.
Development is the result of matching individual needs/aspirations with the needs of the business. After matching the individual and business needs into some developmental recommendations, it is necessary to create a supportive environment to assist in the implementation of those recommendations. This may include supportive strategies (i.e., coaching, mentoring, career pathing, commitment to development planning) or tracking and monitoring systems to create the appropriate expectations for follow-through.
Succession Planning
Talent Management takes a "big picture" perspective to ensure that all leadership development activities are coordinated, integrated and working toward enabling the organization to successfully execute its business strategies. It works from the premise that each organization has had successful practices and examples of what has worked in the past and can be integrated with new ideas and strategies. Succession Planning and focused Leadership Development, a competitive advantage, is important for long term success.
Organizational Alignment is key, integrating other organizational initiatives, will sustain success. Taking an organizational "systems perspective" is imperative, and taking it "step by step," allows for successful and measurable outcomes. A key opportunity in the process is enhancing what matters to your organization..
Creating a Talent Management Strategy or Developing Talent
in your Organization?
Contact Janet Matts if you need help in creating a Talent Management Strategy; or optimizing your Succession Planning Process; or support to meet your organization's Talent Development needs.
Main area of focus is: Somerset, Middlesex, Morris, Hunterdon, and Mercer County. And also: Somerville, Clinton, Whitehouse, Flemington, Bridgewater, Bernardsville, Basking Ridge, Morristown, Parsippany, Florham Park, Morris Plains, Piscataway, Somerset, New Brunswick, Middlesex, Princeton, Montgomery, Skillman.