Welcome to Janet B. Matts, LLC
Enhancing what matters to you...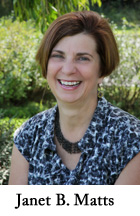 ...is the customized care and approach that Janet and her team uses with each customer resulting in customer success such as;
a new leader moving into a role of greater responsibility,
transitions of individuals in changing organizations
the development of a High Performance Leadership team,
coaching scenarios that focus on communication and cultural differences,
focus on 'balance and prioritization'
Janet B. Matts, LLC, is a fully insured, Leadership Development firm located in New Jersey and specializing in Executive Coaching and Organizational Consulting.
We take an integrated approach to developing leaders, teams, and organizations in a systemic approach to enhance individual potential and organizational effectiveness. This systemic focus results in the understanding of that particular culture, as well as its various organizational functions, integrating complexity, which leads to success.
Focusing on the most critical needs is paramount. Coaching support, high performance team process, and talent management development are just a few examples of the kind of service and support Janet Matts, LLC offers to businesses and individuals.
"In all my work and life I focus on the building of a sustainable communities to allow for significant breakthroughs. Leadership Development is about that community of Leaders who serve as change agents, who have the opportunity to create needed change in the communities we call organizations. Changes in this system create the sustainable differences in our work, in our world. Leader Coaches need to be systemic thinkers, seeing integration and prioritization as critical elements to sustain the needed changes in our global world."
'Making a Difference' in the lives of her clients has been a goal for Janet since her days in the Peace Corps where she felt that difference and now supports that in all that she does. This website will give you a feel for some of the many services offered by Janet B. Matts, LLC and I invite you to take a look and contact me with questions and/or possibilities for services needed.
Janet and her team customizes a program that works for you to meet your objectives and sustains long term success. See client testimonials
A creative, possibility-focused solution to meet your greatest challenges by...
...Enhancing what matters to you
.
Main area of focus is: Somerset, Middlesex, Morris, Hunterdon, and Mercer County. And also: Somerville, Clinton, Whitehouse, Flemington, Bridgewater, Bernardsville, Basking Ridge, Morristown, Parsippany, Florham Park, Morris Plains, Piscataway, Somerset, New Brunswick, Middlesex, Princeton, Montgomery, Skillman.