About Janet B. Matts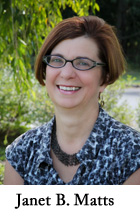 Strategic business consultant, leadership development professional, and executive coach with deep expertise and a track record of success in creating tools and processes and ensuring measurable success.
Her experiences in managing, executing, and integrating enterprise-wide initiatives for leadership development as well as successful individual and executive team coaching have been a lever to drive business growth.
Her strengths include a client-centered passion for this work commitment to attaining business results, and exceeding client expectations. 'Making a Difference' in the lives of her clients is her passion and she exemplifies that commitment in the ongoing work that she does to integrate the individual into the larger system.
Key focal areas include:
Founding Principal of Janet B. Matts, LLC, a fully insured, Leadership Development firm specializing in Executive Coaching and Organizational Consulting.
In her twenty-one years with Johnson & Johnson Worldwide, she was responsible for creating the infrastructure for the Global Executive Coaching process, led the Leadership Practice, and coached and consulted with a variety of senior executives, teams and others in the organization in the above areas. Currently, she works with a variety of clients in for profit and not for profit organizations.
Her clients include a variety of Executives, Management Boards, and Directors in many organizations including:
Johnson & Johnson Worldwide
Advanced Sterilization Products
Biosense Webster
Cordis
Corporate
Ethicon
Janssen Pharmaceutica
Johnson and Johnson Consumer
Neutrogena
Ortho Biotech
Ortho-McNeil
Pharmaceutical Research Division (PRD)
Vistakon

Additional Organizations
BASF
Bayer HealthCare - Consumer Care and Pharmaceutical
Center for Creative Leadership, Greensboro, NC
Coca-Cola
CSL Behring Inc.
Daiichi Sankyo, LLC
Girl Scouts of America
Munich Reinsurance America Inc.
National Grid
One Acre Fund, Kenya and Rwanda
Panasonic
Resorts International (RCI)
Roche Pharmaceutical
Schering Plough Inc.
St. Luke's Episcopal Church, PA
Wyndham Worldwide Inc.
In addition to many in transition that are part of the changing organizational landscape. She has been described as a "world coach" as she has worked in many parts of the world with a variety of cultural and leadership issues. Current projects include New Leader and Team Integrations, supporting the development of a Women's Leadership Initiative, running Peer Coaching Groups in a multiple locations, and creating Leadership Development initiatives.
Her career has drawn upon her multicultural and multinational experiences included serving as the EarthWatch Volunteer in 2001, where she spent several weeks working in the slums of Chennai India on a Maternal and Child Healthcare project. Her first career in the field of special education included a Peace Corps assignment of starting one of the country's first schools for Mentally Handicapped children in Nairobi, Kenya.
Her international experiences, work with young leaders as well as coupled with her educational background allow her to bring a global perspective to her work, the practical experience required to support leaders, individuals, the business, and organization, in reaching their highest potential.
Education
( Click to expand )
Author
( Click to expand )
Contact us for a full biography including
speaker engagements
When I'm Away from the Office...
Main area of focus is: Somerset, Middlesex, Morris, Hunterdon, and Mercer County. And also: Somerville, Clinton, Whitehouse, Flemington, Bridgewater, Bernardsville, Basking Ridge, Morristown, Parsippany, Florham Park, Morris Plains, Piscataway, Somerset, New Brunswick, Middlesex, Princeton, Montgomery, Skillman.