Enhancing what matters to you...
Welcome to Janet B. Matts, LLC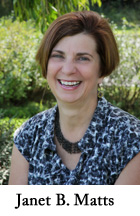 Maximize your opportunities to grow into a visionary and effective Leader. (Executive Coaching)
Support individuals to make significant transitions during different life decades; lead effectively during times of organizational change. (Coaching)
Meet leadership challenges with strategic and systematic methods to reach your breakeven point early, develop insight into your organizational culture and goals, and gain your team and your peers' support. (New Leader Assimilation)
Lay the groundwork for your corporation's success by developing high potential women throughout the organization. (Women's Leadership Development)
Create high performing teams by uniting and aligning your team behind your goals. (High-Performance Teams)
Successfully move to the next stage in your individual career or life,  or help organizations or teams move to the next phase of their development.  (Transitions)
Transform your organization into a more streamlined and productive global company. (Strategic Business Consulting)
Match your people strategy to your business strategy. (Talent Management).
Contact me with questions and/or possibilities for services needed.
Connect with me on LinkedIn.
Main area of focus is: Somerset, Middlesex, Morris, Hunterdon, and Mercer County. And also: Somerville, Clinton, Whitehouse, Flemington, Bridgewater, Bernardsville, Basking Ridge, Morristown, Parsippany, Florham Park, Morris Plains, Piscataway, Somerset, New Brunswick, Middlesex, Princeton, Montgomery, Skillman.